About New Vitality
As a qualified nutrition, health and wellness coach I guide clients to restore inner calm & to regain balance in their lives through healthy eating and prioritising what is most important to them. With my clinic, New Vitality, I specialize in weight loss, food intolerance testing and emotional eating.
Clients
Stress management plays an important part for every client. In this stressful, busy world many clients have forgotten about 'themselves' in a bid to take care of everyone else around them. They are eating in a hurry, confused by all the conflicting information out there, juggling too many tasks and putting their own needs and health to the bottom of the pile. They are lacking energy.
Passion
My passion is to give new vitality to every individual, raising self esteem and helping each and everyone reach their chosen goal through coaching, accountability and easy to follow guidelines, using wholesome , healthy, unprocessed foods.
Support
All of this is done in a tranquil environment with 100% confidentiality and space for the client to let go of emotional baggage which may be holding their health back. It's a calm space where I support my clients to become a healthier, better version of the wonderful people they are already!
Jill Dempsey
Why Choose New Vitality?
My approach is unique in that I value the client as an individual and their own personal story. Every person sees the world in their own, unique way, particular to their individual genetic disposition, personal experiences, likes and dislikes. There are no two people in the world who are exactly the same!
Each individual requires quality time, total privacy, confidentiality, respect and dignity. Discussing personal issues including weight loss, stressful events in relation to emotional eating are all very delicate matters and clients can feel extremely vulnerable trying to share these issues or acknowledge what barriers prevent them from meeting their health or weight loss goals.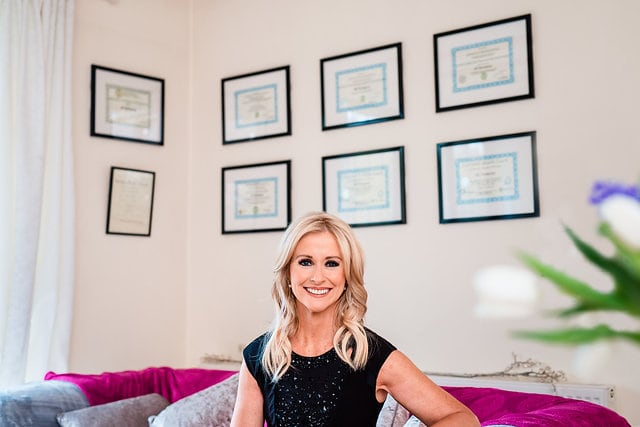 I provide a confidential place for them to share as much or as little as they choose. Clients need to be heard and I am a good listener. I prefer to understand the client as an individual person in their set of circumstances rather than assume it's the same deal for everyone – each person needs to adapt their own health to be the best they can possibly be in their own life.
As a qualified dietary counsellor, health and wellness coach, I am trained to support the client by guiding them to reflect on all areas of their life-360 degrees. Linking this to nutrition and eating in the healthiest ways possible, the client understands how to manage their own weight and reach their weight loss goals, in a long term sustainable manner.
Clients also learn to manage stress, step by step at their own pace and discover an awareness surrounding the triggers that throw them off balance, especially with regard to emotional eating. I work closely with clients to remove 'self-limiting' beliefs.
As a qualified Nutritics Analyst, I produce reports reflecting the macro and micro nutrient levels in the client's current diet showing which nutrients may be deficient or excessive. I also analyse glycemic load based on food diaries and help balance blood sugars over a number of weeks.
Also using Nutritics, I provide professional meal plans, highlighting nutritional daily requirements. I also do this for sports enthusiasts for training days and non-training days.
Personalised Experience
Each client is unique. So is my approach. Respect and dignity are top priorities. I provide a calm environment, total confidentiality, privacy and quality time required to help you achieve your personal goals working at your chosen pace.
Fully Qualified
As a qualified dietary counsellor and health and wellness coach, I can guide you to reflect on all areas of your life, to link with your weight loss goals, in a long term and sustainable way.
Work At Your Pace
I work closely with clients to remove 'self-limiting' beliefs so you can learn to manage stress, at your own pace and discover an awareness of your triggers for emotional eating.
Nutritics Analyst
I am a trained Nutritics Analyst. Therefore I analyze the quality and quantity of your personal macro and micro nutrient levels, glycemic load and calorie intake based on a 7 day food diary typical of your eating patterns throughout the year. The report provides insight into your general eating patterns. From here we make adjustments to improve the quality of your diet creating appropriate meal plans.
5 Consultations 
(over 4 Weeks ) 
Hungry for Change?
Gets you off to the perfect start, providing an excellent foundation for essential nutrition, to set  you on the path for optimum health for the rest of your life.
This is a requirement  for anyone wanting to understand the power of food in terms of either 'eating for better health' instead of 'eating to promote illness' in the body.
The Bronze Programme is the starting point for all new clients and is the foundation for all future successes in helping clients to reach all health goals.
Be prepared to know what to choose every day of the week to eat, whether at home with a busy household, at work with your colleagues, on holidays with your friends or maybe in the club house with your team mates!
10 Consultations
(over 9 weeks)
Add extra support and accountability
This programme motivates you even further  than the Bronze Programme with extra coaching and accountability.
It gives more time and support to implement the skills required for sustainable weight goals or other ongoing health concerns, for the future.
You choose the health goal - get the support you need, work at your own pace but learn to upgrade your health for a happier, more productive future! 
VIP  Deluxe 
(over 4 months)
Become A better You!
This programme gives you everything from the Bronze & Silver Programmes but continues to enhance and explore your progress or add any new goals you may wish to achieve ,over 4 months with added accountability and support.
Perfect for greater or more challenging goals. It ranges from 14-16 weeks and is designed to give more versatile, bespoke support.
This programme is also ideal for anyone requiring Nutritional Therapy, as this involves a  more personalised therapeutic approach using  Nutrition, Lifestyle and possible Supplement protocal. Clinical testing may also be required (priced separately). Time is required for deep analysis and progress of the individual health concern and there maybe more than one!
It involves a full Case History, Timeline, Matrix (based on Institute of Functional Medicine guidelines), Analysis and research of the presenting Imbalance or Health Concern and a fully developed Staged Therapeutic Plan (duration 4-6 months approx) to address the health concern or imbalance in the body.
You may be a busy CEO or the 'go to' individual everybody relies upon in their life or just simply 'burnt out' or 'lost your mojo'  - either way, you are long overdue an upgrade to your health and feel that lifestyle guidance and nutritional support over time is just what you need to invest in yourself, for a brighter, healthier future!